Accent Features
Perfectly Formed
The compact and aerodynamic Accent is a real whizz about town, receiving admiring glances wherever it goes. The design is strong and purposeful, with a chrome radiator grille, striking curved headlights and a distinctive rear bumper and taillight design. Flowing lines and stylish alloy wheels complete the Accent's sporty look.
Side Mirror Indicators
The Accent is not just about looking good, it's about keeping you safe too. Indicator lights are stylishly built into the side mirrors, making it easy for other road users to see when you indicate to turn or change lanes. (Elite model only)
Rear Spoiler
The rear spoiler is another example of style with safety in mind. Flowing lines along the chassis draw your eye to the aerodynamic rear spoiler, which comes with an integrated stop light to warn vehicles behind. (Elite models only)
Alloy Wheels
The Accent may be small, but it's not lacking when it comes to eye-catching design. Distinctive 16-inch alloy wheels give the Accent a premium feel, with two great designs to choose from on Entry and Elite models.
ACCENT EXTERIOR COLOURS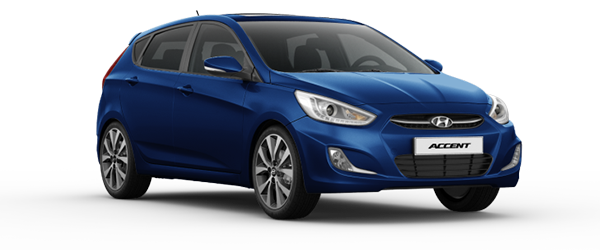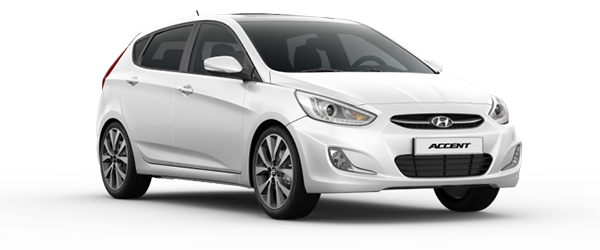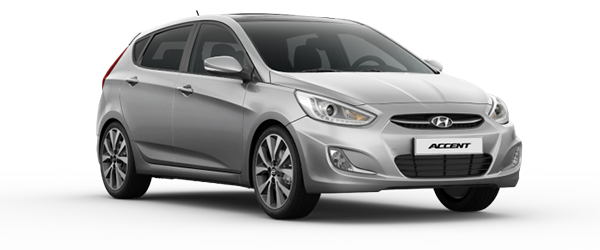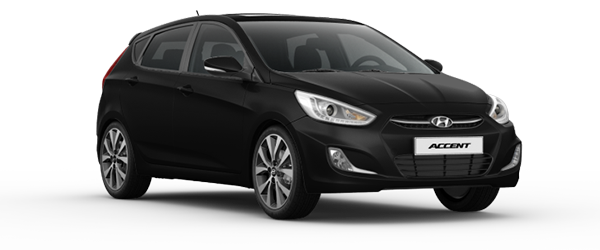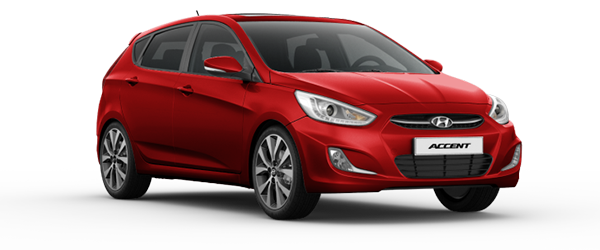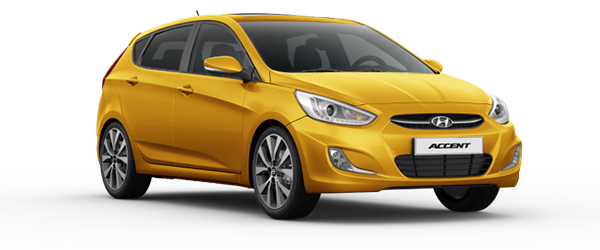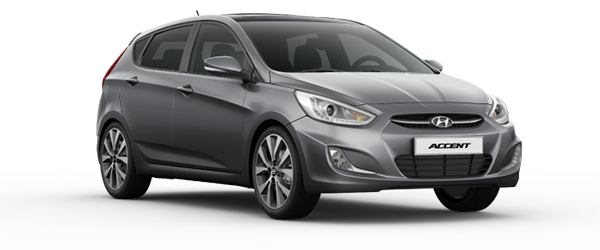 AUDIO SYSTEM
Sounds great. Listen to your favorite music loud and clear with the Accent Elite's six speaker audio system. All models feature iPod connectivity, integrated Bluetooth audio streaming and auxiliary input.
STEERING WHEEL MOUNTED CONTROLS
Steering wheel mounted audio including seek-and-skip function, cruise controls (Elite model only) and Bluetooth pick up / hang up are conveniently placed at your fingertips so you don't take your eyes off the road.
BLUETOOTH HANDSFREE PHONE SYSTEM
Bluetooth handsfree is available on all Accent models and means you can safely talk on your phone while driving. The system in the Accent is driven through the stereo and works with all Bluetooth enabled phones, with the ability to answer and end calls using the steering wheel mounted controls.
SUPERVISION CLUSTER
Designed to be bright and easily readable, yet attractive and stylish. The supervision cluster also reduces fatigue on the eyes with the addition of soft blue lighting (Elite model only).
PUSH BUTTON START
Proximity key technology enables you to lock and unlock your Accent Elite without taking the key from your pocket or bag. Similarly, the push button start allows you to turn on the ignition without having to insert the key (Elite model only).
IPOD CONNECTIVITY
Stay connected. Plug your iPod, smartphone or personal music player straight into the audio system and listen to your music when and wherever.
AUTOMATIC CLIMATE CONTROL AIR-CONDITIONING
The fully auto air-conditioning system on the Elite model means you can set the desired car temperature and let the system take care of the rest, ensuring interior climate that is always as you like it. Manual air-conditioning on entry models with 4-speed blower control enables you to adjust the temperature manually to your preference.
GDI PETROL ENGINE
On the Elite model, a new high performance, low emission GDi petrol engine option delivers 103 kW of power and 167 Nm of torque for a more powerful ride. This model also boasts a 6-speed automatic transmission for better control through the gears and a smoother drive.
MANUAL OR AUTO TRANSMISSIONS
Hyundai has engineered the new Accent's transmissions so that they make use of every drop of fuel. There's the new 6-speed automatic transmission on the Elite model, and on entry models you have the choice of a 4-speed auto or a 6-speed manual. The two automatic transmissions feature HIVEC (Hyundai Intelligent Vehicle Electronic Control), with overdrive and lock-up converter, which adapt to your driving style.
REVERSING CAMERA
To help with parking in tight spots, a reversing camera provides a colour image on the rear view mirror. (Elite Model Only)
5-STAR ANCAP SAFETY RATING
The Hyundai Accent has been tested and awarded the highest possible safety rating for adult occupant protection in a passenger vehicle, 5-stars.
VEHICLE STABILITY MANAGEMENT (VSM)
The Vehicle Stability Management (VSM) system detects grip levels on mixed surfaces and applies steering and brake assistance to maintain traction and stability.
AIRBAGS AND ACTIVE HEAD RESTRAINTS
To ensure you and your passengers are fully protected in the unlikely event of a collision; we've installed plenty of interior safety equipment into the Accent. There are six airbags, along with supportive active front head restraints that actually move up and forward in the event of a rear-end collision. This helps reduce whiplash-style injuries.
CHILD SEAT ANCHOR POINTS
The Accent is designed to keep Kiwi families as safe as possible, with tether child seat anchor points in the rear and ISOFIX child seat anchor points on rear outside seats as well.