Imagine a future where all forms of transportation and technology function seamlessly and sustainably, emitting zero carbon into the air. Sounds too good to be true, doesn't it? Well, with hydrogen technology, that future is possible. 
Why Hydrogen?
Hydrogen is the most abundant element on earth. When used in a hydrogen fuel cell, it is a powerful, highly efficient and flexible clean energy source - emitting only electricity, heat and water.
This makes hydrogen an excellent renewable energy source for zero-emissions passenger cars, heavy-duty trucks, and buses.
Sometime soon, the H2 fuel cells pioneered by Hyundai will be used to heat our homes and offices, produce electricity, fuel aircraft and even power entire cities.
Our hydrogen technology has the power to change how we drive and how we live.
What is Fuel Cell technology?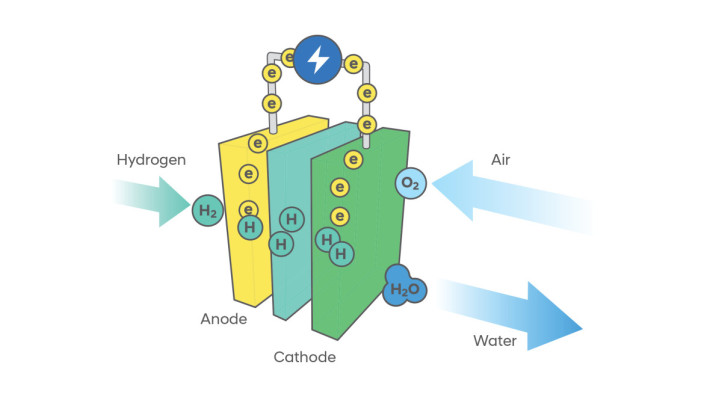 Hydrogen atoms enter the fuel cell at the anode, where a chemical reaction strips them of their electrons. The hydrogen atoms are now "ionized" and carry a positive electrical charge which allows them to pass through the membrane. The negatively charged electrons provide the electrical current as they are forced to take the longer path.  
Hydrogen mobility
Over the past 20 years, Hyundai Motor Group has devoted significant resources and talent to developing hydrogen-based technologies. As a result of these long-term efforts, our hydrogen passenger and commercial vehicles are already in use worldwide, helping to popularise hydrogen energy.
Hyundai started to develop a hydrogen fuel cell car in 1998, and Tucson FCEV was released in February 2013, opening the door to the mass production of fuel cell EVs. Then, in 2018, it released the next-generation hydrogen fuel-cell SUV, NEXO. It has also released the world's first mass-produced hydrogen-electric truck, XCIENT Fuel Cell, and is now developing a tractor based on the XCIENT Fuel Cell that's set for release in 2024.
NZ Post first Kiwi owner of Hyundai hydrogen-powered truck
The Hyundai XCIENT Fuel Cell truck was officially unveiled in its working livery by NZ Post at an event held at their Auckland Operations Centre and attended by Energy and Resources Minister Megan Woods.
The announcement is a timely answer to the Government Emissions Reduction Plan, which included a target to cut emissions from freight transport by 35% by 2035. Heavy transport makes up 4 per cent of New Zealand's transport fleet but is responsible for 25 per cent of all transport emissions. This truck will take over from one of its emission-heavy diesel counterparts, saving 1701 tonnes of C02 per year from being emitted into our environment and displacing approximately 100 passenger cars emissions based on typical annual mileage1.
As the third country after Korea and Switzerland to introduce a hydrogen-powered trucks programme, this is an exciting milestone and puts New Zealand at the forefront of international efforts to shift heavy vehicle transport to zero-emission formats.
Refuelling in New Zealand
The New Zealand Government backed refuelling network being constructed by Hiringa Energy has experienced some international supply chain delays due to COVID, this has impacted the shipping of critical hydrogen equipment from the UK and Europe. Whilst the construction and delivery of the equipment is being expedited daily the project has experienced a delay from the originally planned open date, the first station is now expected to come online in Q1 2023.
Common hydrogen myths debunked
Myth 1: Hydrogen gas is dangerous to store and use.
Hydrogen is no more dangerous than other flammable fuels or the batteries used in electric cars. Hydrogen has a rapid diffusivity (3.8 times faster than natural gas), which means when released, it dilutes quickly into a non-flammable concentration. With their heavier-than-air vapours, Petrol and diesel are more likely to cause a fire when confined in a tight space and create secondary fires. 
Myth 2: Hydrogen is dirty
Hydrogen vehicles do not emit pollution, its only emission is water and can be produced using renewable sources like solar power.
Myth 3: Hydrogen fuel cells are too expensive 
Over time, hydrogen will be more cost-effective than petrol. Given the sustainable abundance of hydrogen, it will be a cheaper fuel source than finite fossil fuels.
On the road to a hydrogen ecosystem
Welcome to the new podcast from Hyundai Motor: Are We There Yet?, which investigates the world-changing ideas coming out of the workshops, labs and secret test tracks at Hyundai. 
This episode looks at how hydrogen technology is key to a carbon-free future. Check out this episode and more by clicking below.  
H2 video gallery
Helpful H2 resources
Visit the Hyundai New Zealand media centre to read about the latest hydrogen developments.