IONIQ 5
A new standard
has been set.
Welcome to a new era of Electric Vehicles
Welcome to IONIQ 5
The IONIQ 5 marks the beginning of a new era of clean mobility for Hyundai. Blurring the line between digital and analogue, the new battery electric midsize SUV is the flagship model behind Hyundai's new signature dedicated EV architecture. This is just a small taste of what's to come in the new IONIQ range.
Register your interest below
The future of electic mobility is here
With the IONIQ 5, future mobility will no longer be something to look forward to, but a reality of everyday life. This ground-breaking electric SUV will put you in charge – without compromise, helping you to decide about your way of life and your impact on the world.
Distinctive. Iconic. Pure
 The IONIQ 5's pure design is a refreshing take on electric vehicles, stripping away complexity to celebrate clean lines and minimalistic structures. The unique clamshell hood spans the entire width of the car, minimising panel gaps for a clean, high-tech look. The LED lighting showcases its signature Parametric Pixels – unique jewel-like design elements that will feature on the exterior of all future IONIQ models.
From night to bright in 256 pixels
Bold and bright in the back
Exclusive 20" alloy wheels
See and be seen – the crown jewels of the iconic front-end presence are the distinctive LED headlamps with their 256 cubic pixels.
The innovative LED lighting design can be found in the back as well, with IONIQ 5's signature Parametric Pixels highlighted in the unique rectangular rear light signature.
The aero-optimised wheels further echo the design theme, exuding an exclusive electric flair, harmonising beautifully with the sleek profile.
Spacious, sustainable living
Inside the IONIQ 5, the lines between living space and moving space are being blurred. Our new EV platform gave us the opportunity to re-create the interior as a whole new in-car experience. A larger flat floor, highly adjustable front seats that can be fully reclined, and a flexible centre console that can be moved throughout the cabin, make for an extraordinary experience.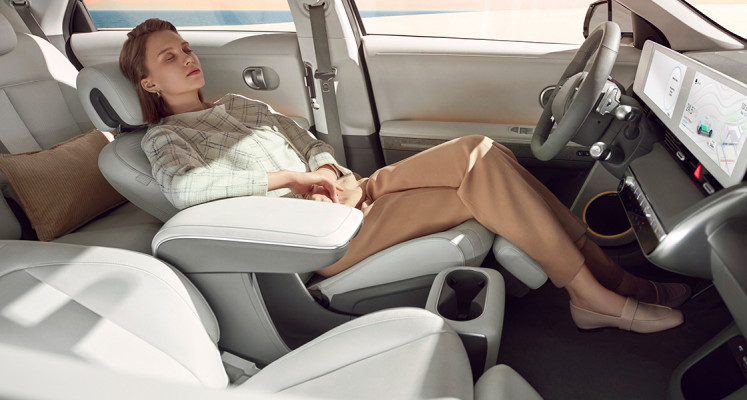 *Ultrafast charging possible with dual 300kW Hyperchargers.
Watch the Digital World Premiere