Next generation. Now.
The all-new NEXO is so beautifully clean, it purifies the air as it drives creating a future where comfort, control, and convenience do not weigh heavy on drivers' consciences. The NEXO delivers best-in-class performance while producing no tailpipe emissions, other than purified air and droplets of clean water.
This vehicle was born from our vision of a connected and safer tomorrow where vehicles co-exist with us and our environment. The next generation of fuel cell vehicles is now.
We invite expressions of interest for NEXO. Price available on application.
Expressions of interest are welcome. Price on Application.
Next generation hydrogen power.
Since launching the world's first mass-produced fuel cell in 2013, we've overhauled its constituent parts to make the system smaller, lighter and stronger. As a result, our second generation fuel cell has the world's highest system efficiency, consuming as little as 1kg of hydrogen per 100km. Along with its five-minute fill-up time and impressive range of 666 km (WLTP), the all-new NEXO offers a viable alternative to the combustion engine for everyday commuting and long drives alike.
*All figures are under WLTP (Worldwide Harmonised Light-Duty Vehicles Test Procedure) regulations, which measure fuel, energy consumption, range and emissions in passenger vehicles in Europe. This is designed to provide figures closer to real-world driving behaviour. Figures shown are for comparability purposes; only compare fuel consumption, CO2 and electric range figures with other cars tested to the same technical procedures. 
Next generation design.
Every aesthetic element of the NEXO was designed to be as clean and pure as its fuel source. This vehicle is a bold step towards a better future and we've styled the exterior to reflect this, making it as streamlined and futuristic as possible.  Inside you'll experience an elevated level of ultra-modern luxury and technology right at your fingertips. From clear LCD displays for navigation, entertainment and driving information to sleek bio-materials, this vehicle makes life easier with the intelligent and intuitive technology conveniences you've come to expect.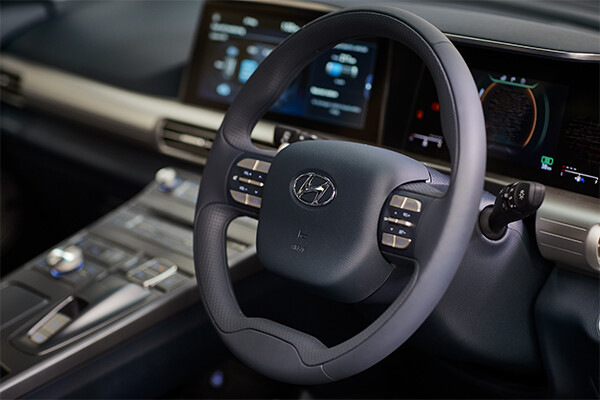 Steering Wheel
The sporty two-tone steering wheel features ergonomically positioned buttons so you can stay in control and operate car systems while driving safely. Paddle shifters mounted on the steering wheel adjust the level of regenerative braking; allowing drivers to customise the rate at which the battery is recharged when decelerating.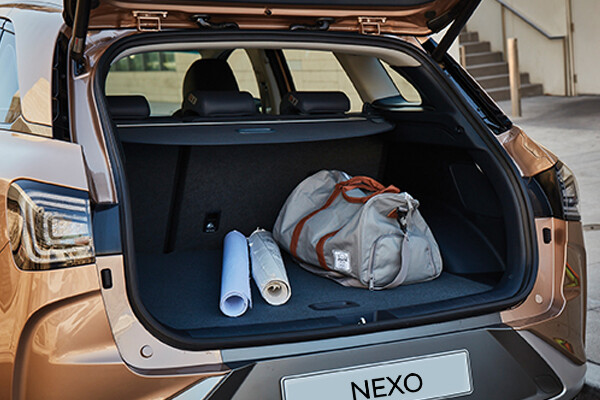 Luggage Space
With a boot capacity of 461 litres (VDA), there is plenty of room for passengers and their luggage. The convenient 60/40 split-folding rear seats give you more flexibility and cargo space when you need it. The hydrogen fuel tanks have been specially designed to enable a full fold-flat floor. And with the seats folded flat, you have a generous 1,466 litres of space.
Next generation technology.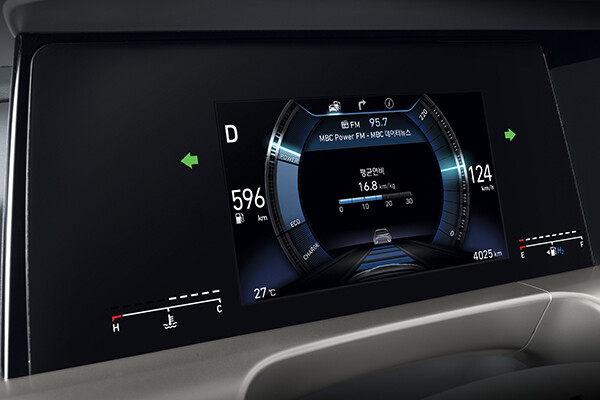 Supervision Instrument Cluster
The digital information cluster presents important driving information with outstanding visibility. Alongside range and trip information, a power gauge lets you see how your driving style is influencing fuel consumption. The status of Advanced Driver Assistance Systems is displayed here as well as the Blind-Spot View Monitor which shows drivers both rear and side views when indicating to change lanes.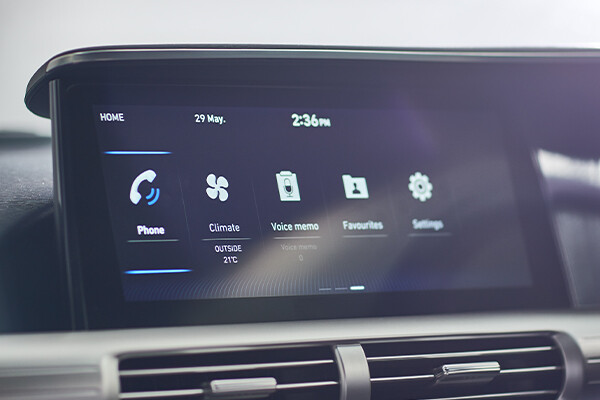 Touchscreen Display
The 12.3" colour touchscreen displays navigation, energy consumption information, infotainment and climate controls. It also has a split screen feature so you can select up to three screens at the same time. With Apple CarPlay™ and Android Auto™ functionality, you can connect a compatible smartphone and control your music, phone and app functions on the big screen.
Next generation safety.
Enjoy greater confidence on the road with Hyundai SmartSense, our cutting-edge Advanced Driver Assistance Systems (ADAS).  The all-new NEXO is leading the way forward with the highest level of ADAS of any mass brand, with safety innovations including a self-parking system and lane-following features. These advanced innovations are a big reason why the NEXO is the most intelligent vehicle we've ever produced.
NEXO vehicle gallery