i30 Wagon Features
Fully Loaded
Hyundai believe that hardworking wagons deserve personality too, so the i30 Wagon has been given bags of style. A gently sloping roofline and rear spoiler with integrated LED stop-light bring out the i30 Wagon's sporty side - a dynamic look which is emphasised by a curved rear window and stunning alloy wheels.
Body Colour Handles and Side Mirrors
Whatever colour you choose for your i30 Wagon, the handles and mirrors are painted the same colour as the body, helping to maintain a sleek, uninterrupted flow along the vehicle's sides
Alloy Wheels
The i30 Wagon's eye-catching exterior is given an even more dynamic look with sporty 16" alloys as standard.
i30 WAGON EXTERIOR COLOURS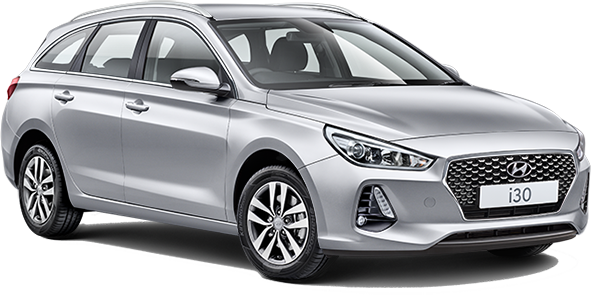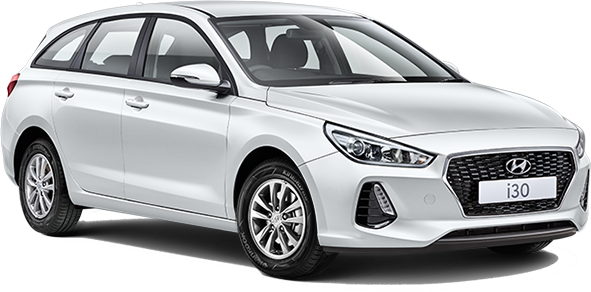 IPOD CONNECTIVITY
The i30 Wagon makes it simple and easy to connect just about any gadget. Your iPod, smart-phone or personal music player plug straight into the audio system so you can listen to all your personal favourites.
BLIND SPOT DETECTION SYSTEM (BSD)
BSD alerts the driver the driver about vehicles in your blind spots or vehicles approaching the rear of your car at high speeds.
STEERING WHEEL MOUNTED CONTROLS
located on the steering wheel. This gives you the ability to control your cruise control, phone, am/fm radio, iPod, Bluetooth or an auxiliary device simply and safety whilst your hands remain on the wheel.
REAR SEAT 60:40 SPLIT FOLDING
With 60:40 split folding rear seats, you have the flexibility to carry one or two extra passengers, while also having the storage space for larger or longer cargo. So, wherever you need to be and whatever you need to take along, the i30 Wagon's more than happy to accommodate.
(overseas model shown)
ENGINE OPTIONS
The 1.6 litre petrol petrol engine delivers a maximum 94 kW of power and 156 Nm of torque – talk about a great power and efficiency combination. The 1.6 CRDi turbo-diesel engine delivers 100 kW of power and 300 Nm of torque and offers combined fuel consumption of just 4.5 litres per 100km.
TRANSMISSION
The i30 Wagon's transmission options provide exceptional fuel economy whilst delivering useful performance. The 6 speed automatic in the petrol model offer smooth shifting whilst the 7 speed dual clutch transmission in the diesel model offers spirited performance.
ELECTRONIC STABILITY CONTROL (ESC)
As an advanced standard safety feature, Electronic Stability Control (ESC) helps you avoid serious accidents by taking split-second control of your car during critical situations. ESC continuously monitors vehicle directional stability and tyre traction. If the system senses the car is about to skid and risks spinning out of control, ESC automatically intervenes, applies the brakes over individual wheels that need it, and controls the engine power to prevent loss of directional control.
5-STAR ANCAP SAFETY RATING
The Hyundai i30 Wagon has been tested and awarded the highest possible safety rating for adult occupant protection in a passenger vehicle, 5-stars. The ANCAP test illustrates that all passengers can enjoy peace-of-mind motoring.
BLIND-SPOT DETECTION SYSTEM (BSD)
Protecting when you're at your most vulnerable, the blind spot detection (BSD) system is like having a second pair of eyes watching out for your safety.  It constantly monitors the blind spot and will alert to the presence of a vehicle in the blind spot.