Turbocharging and AWD adds spice to the Hyundai Kona flavour
While many of the other car companies are still talking about electrification of their vehicles, Hyundai is actually doing it.
You have to hand it to Hyundai. While many of the other car companies are still talking about electrification of their vehicles, the South Korean brand is actually doing it.
In New Zealand the brand has already launched the Ioniq which can be purchased as a hybrid, plug-in hybrid, or battery electric vehicle.
Late last year it launched the Kona small SUV which at this stage is available as front-driven 2.0-litre or AWD 1.6-litre turbocharged versions - and from later this year these two vehicles will be joined by a battery electric model.
Maybe even two BEV versions actually, offering different battery capacity and motor output.
News out from Korea so far suggests what's known as the Kona Electric will become available internationally with a 99kW electric motor powered by a 39.2kWh battery pack which will give it a range of 241km on a full charge, or with a larger 149kW electric motor powered by a 64kWh battery pack which will give a range of more than 400km.
It's understood that the vehicle has already achieved a 469km range under the wonderfully-named Worldwide Harmonised Light Vehicle Test Procedure, which is a global standard that is used to determine everything from levels of exhaust emissions to range of electric vehicles.
No firm announcements have yet been made by Hyundai New Zealand as to when the Kona Electric will come to this country (there is talk of July), and what the prices will be. But we should be happy that the vehicle will come here, allowing Hyundai to continue to be a pathfinder in the exciting trend towards electrification of a growing percentage of the national vehicle fleet.
Until that happens, we've still got the two petrol-engined versions of the Kona. Since they were launched late last year they've been combining forces to perform well on the New Zealand new vehicle market too - the model is currently the top-selling Hyundai, last month sitting in 9th place on the national sales ladder.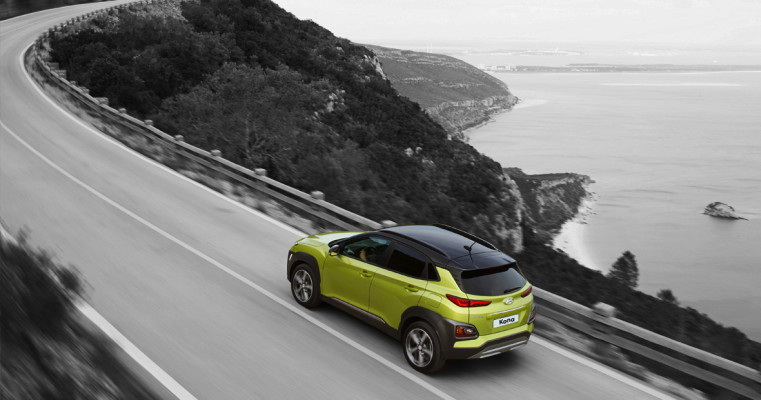 The most popular Konas are the front-driven 2.0-litre models which can be purchased in entry form for $31,990 or as a higher-specified Elite for $36,990. We've already tested the 2WD Elite, and it underlined our opinion that when it comes to small SUVs, motorists care less about performance and all-wheel driven off-road capability, preferring instead to have all the luxuries.
And there's nothing wrong with that. Front-driven SUVs of this size and design are actually perfect for the modern motoring environment. They're a morphing of the traditional sedan, hatchback and wagon body styles into something more practical and lifestyle-oriented. If they can be well-appointed as well, then all the better.
But what if you want a bit of performance? That's where the 1.6T versions come into the picture. The entry model costs the same as the 2.0-litre Elite, but it carries the same specification as the entry 2.0-litre model, which means the extra 5K you pay for the vehicle is all to do with its performance potential. Then there's an Elite, which retails for $41,990.
Whereas the normally aspirated 2.0-litre Konas offer 110 kilowatts of power and 180 Newton metres of torque, the direct-injected and turbocharged 1.6-litre versions develop 130kW and 265Nm - and thanks to that turbocharging, the torque is available from just 1500rpm right through to 4500rpm.
And whereas the the normally aspirated Konas have six-speed automatic transmissions, the turbo model is fitted with one of those flash seven-speed dual clutch autos that work so quickly.
Not only that, but the 1.6T is designed to be sportier ride, too. It's all-wheel drive while the other models are front-driven, and it benefits from a different rear suspension - whereas the 2WD models have a coupled torsion beam setup, with the 1.6T its a multi-link system with coil springs.
All this means that although all the new Konas look pretty much the same with their distinctive small SUV looks, stacked front and rear light clusters, very slim-line daytime running lights, and protective lower skin that Hyundai likes to call body armour, the 2WD and AWD models are quite different vehicles.
Naturally the 1.6T is the superior performer, but one question that sticks in my mind is whether it is the easier performer. In some respects the 2WD models provide the more accessible motoring because of their standard auto transmission rather than the dual clutch version. This is particularly the case at the lower round-town speeds and for such actions as parking.
But out on the open road - well, that's a different story. It's the 1.6T that's easily the superior Kona, as it should be. The drive experience is nice and firm, and that turbocharged engine is an impressive performer. Economical too - whereas the 2.0-litre models have an official average fuel consumption of 7.2L/100km and CO2 emissions of 169 g/100km, with the 1.6T the figures are 6.2L/100km and 153 g/100km.
And that's what is good about the new Kona - the model selection offers real choice. It's going to improve too, once the fully electric version arrives. Add that selection to what's already on offer with the Ioniq, and we're obviously in for exciting technological times with this progressive Korean brand.