Achieving perfection at Hyundai
Globally, Hyundai is always striving for perfection. The safest car, the most comfortable car, the most technologically advanced car. Above all, the best car for our customers.
But what guides our design ideas, and how do we apply them to the real world? That's where our philosophy of 'Sensuous Sportiness' comes in, which has helped us create the array of technological innovations that have made our cars some of New Zealand's favourites.
Our design process
We base all of our designs on the concept of 'Sensuous Sportiness', representing the evolution of Hyundai design since our beginnings more than 70 years ago.
It is the connection between look and feel, between aesthetic and performance. Our cars are both futuristic-looking and sporty, combining the emotional value of the car with its proportion, structure, styling and, of course, technology.
The idea of Sensuous Sportiness is leading next-generation thinking at Hyundai. Our cars have been at the forefront of contemporary automotive design for years, and we believe our philosophy of blending the intrinsic beauty of automobiles with the four fundamentals of car design: proportion, architecture, styling and technology.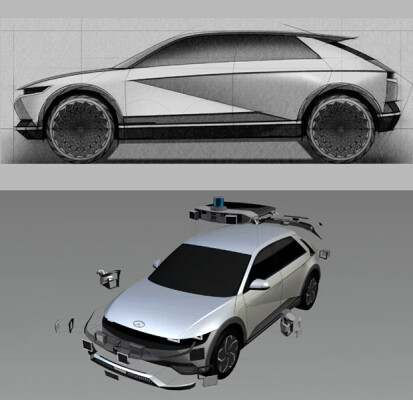 2. Sketching and rendering
With an idea in mind, we can create an initial sketch on paper, as well as basic computer renders. This rough idea of the car's shape reveals its intended nature, whether it's a sleek sports coupe or a new family SUV. The finished draft shows the personality of the car and helps us determine how to improve upon the concept further.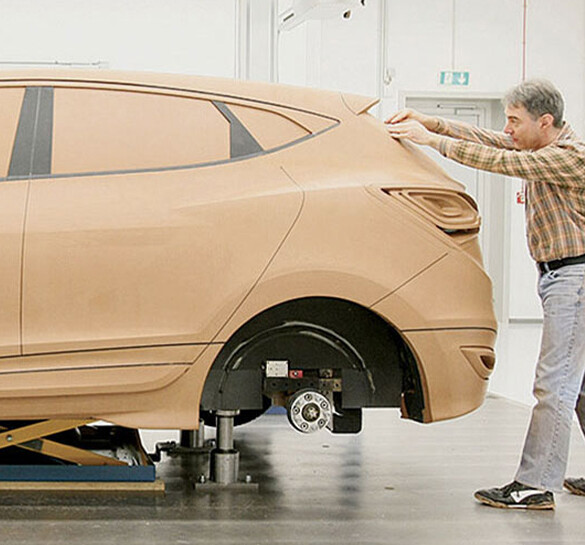 5. Full-scale model
At this stage we understand the intention behind the vehicle, its emotional value, and its design specifications. We can produce a full-scale model using a five-axis CNC milling machine, which is then completed by hand to give it the final artistic, nuanced touches of a modern vehicle.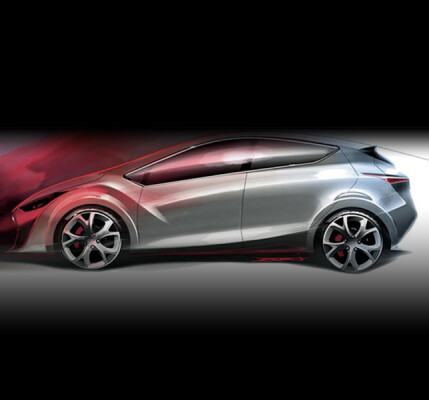 6. Emotional and colour design
There's only one stage left before we send the new design off for production. The use of colour and material plays a huge role in how people will feel about a vehicle - transforming it from a shiny metal chassis with wheels into an extension of one's own personality. At this stage, we evaluate the use of different materials, designs and colours to bring the vehicle to life.
Check out our latest designs
All-new Tucson
The all-new Tucson lives and breathes our Sensuous Sportiness design philosophy. From the big touches to the little ones, this car has been built from the ground up to grab attention.
For the first time ever we've brought our parametric lighting to a production car. Integrated into the all-new radiator grille are light-reflecting air intakes blended with LED Daytime Running Lights. These are complemented by stylish parametric rear tail lights and chrome moulding.
But this smart SUV has more than aesthetics. It's earned a 5-star ANCAP safety rating, and features an array of contemporary technological and comfort features.
IONIQ 5
The latest iteration of Hyundai's highly successful IONIQ EV series is showing New Zealand what a modern, fully-electric SUV can achieve.
Modern Hyundai SUVs are known as some of the best family cars on the market, and the IONIQ 5 is no different. Under the hood is your choice of two battery options, providing up to 225 kW of engine power and up to 460 km of range on a full charge. Inside is a stunning interior made with recycled, eco-friendly materials.
The car doesn't sacrifice on safety, either, featuring Hyundai's famous SmartSenseTM active driver assistance technology and a 5-star ANCAP rating.