IONIQ EV Series II Features
ACTIVE AIRFLOW SYSTEM
The aerodynamic grille discretely incorporates cooling flaps which automatically close and open as required.
LED TAIL LIGHTS
Stylish lamps feature LED technology to deliver maximum illumination while drawing a minimal amount of electricity.
LED HEAD LIGHTS & DAYTIME RUNNING LIGHTS
Stylish headlamps on the Elite model features LED technology to deliver maximum illumination while drawing a minimal amount of electricity. These join the intricate LED Daytime Running Lights which feature on all IONIQs.
CHARGING PORT
For maximum flexibility, the port offers a choice of recharging modes: Standard or quick charge. Connecting the cable is designed to be safe, secure and simple.
REAR BUMPER
The two-tone bumper has a graphic insert to add a sporty touch and provide continuity with the front end design. Reverse warning sensors are also discretely integrated into the bumper to assist with parking.
ALLOY WHEELS
The modern & stylish 16" alloy wheels ensure that your IONIQ Electric will standout like no other. They also provide the benefit of an aerodynamic design which further aids fuel economy.
IONIQ EV SERIES II EXTERIOR COLOURS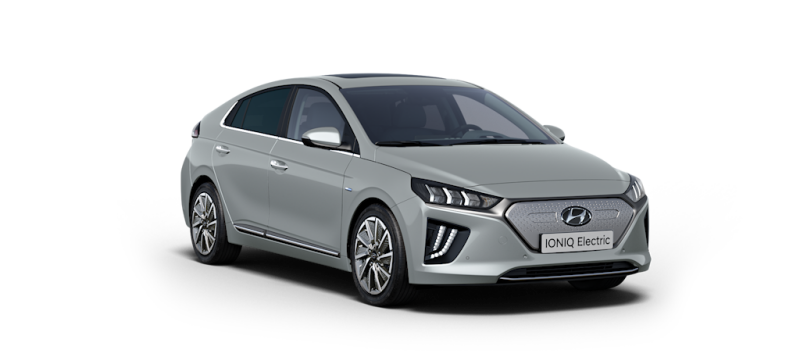 INTERIOR
INTERIOR
INTERIOR
INTERIOR
INTERIOR
INTERIOR
INTERIOR
INTERIOR
INTERIOR
INTERIOR
INTERIOR
INTERIOR
SUPERVISION CLUSTER WITH 7˝COLOUR TFT LCD
The impressive 7˝ supervision gauge cluster features a high resolution TFT LCD that provides continuous updates on energy flow, battery state of charge and more.
TOUCHSCREEN AUDIO SYSTEM
The IONIQ Series II features a new 8" touchscreen multimedia system incorporating Apple CarPlay® & Android Auto®. Elite models go one step further with a large 10.25" screen.
FRONT HEATED SEATS & STEERING WHEEL
On Elite models the front seats are equipped with warming elements to help take the chill off a cold day. Also included is a heated steering wheel for those extra chilly days.
WIRELESS SMARTPHONE CHARGING 
The Elite model enjoys new induction technology letting you recharge your smartphone without connecting cables (compatible phone models only), and an alert is triggered should you ever leave your phone behind.
D-CUT STEERING WHEEL
The sporty D-cut steering wheel is equipped with paddles that control the variable regenerative braking.
CHROME DOOR SCUFFS
A crowning touch reflecting the exquisite craftsmanship that has gone into the manufacturing of IONIQ Elite.
POWER DRIVER'S SEAT
The electronically-controlled driver seat on the Elite model features 8-way adjustment plus 2-way lumbar support.
SEAT FOLDING SYSTEM (60:40)
For maximum flexibility, the rear row of seats can be folded down entirely or in split sections.
SMART CRUISE CONTROL
Smart cruise control is ideal for open road driving, allowing you to relax your right foot while maintaining a constant speed. 
CLIMATE CONTROL AIR CONDITIONING 
Enjoy total comfort in your IONIQ with an advanced touch capacitive climate control air conditioning system. The system offers full set and forget functionality. Also included on the Elite model is an automatic windscreen defog system.
ELECTRONIC GEAR SHIFT BUTTON
Gear shift controls are where you naturally expect them to be, right on the centre console. With just one easy click, you're in Drive / Park / Reverse. Includes a safety interlocking system, of course.
PADDLE SHIFTER 
The paddle shifters give you four levels of control over regenerative braking. One click on the right paddle and you can prioritize recharging and economy or, if you're in the mood, just click the left paddle to minimize regenerative braking. 
311 KM RANGE
With a 100kW electric motor connected to a fully-charged 38.3kWh lithium-ion polymer battery, the IONIQ Electric gives you a range of up to 311 km (WLTP) on a single charge, with zero emissions.
IONIQ POWERTRAIN
Under IONIQ's bonnet is an 100kW electric motor coupled to a direct drive reduction gearbox, all governed by an EPCU and because the IONIQ EV has a 100% electric motor it means that it generates absolutely zero driving emissions.
PLUGGING IN
There are multiple options to charge up your IONIQ.  Whether you charge at home or on the road you will always enjoy significant running cost savings.
(AC) Slow / Portable Charger - 25 hours
(AC) Fast Charge – 6 hours
(DC) Rapid Charge 50 kW: Approx 60 min to 80%
38.3 kWh LITHIUM-ION POLYMER BATTERY
The increased power density of this advanced battery delivers more performance and greater driving range. The battery is located low in the chassis for better handling characteristics. To further improve recharging times the AC onboard charger has been increased to 7.2 kW. 
Additionally the battery is covered by a 10 year/160,000 km warranty to give you maximum reassurance.
IN-CABLE CONTROL BOX (ICCB) CHARGING CABLE
This cable lets you recharge your IONIQ practically anywhere. It's designed to connect to a standard wall socket and will recharge the IONIQ using household AC current.
7-AIRBAG SYSTEM
Enjoy complete protection thanks to 7-airbags: a pair of front airbags for both front occupants and a knee airbag for the driver. A pair of side airbags (front only) and full-length curtain airbags defend against side collisions.
ADVANCED HIGH-STRENGTH STEEL
The usage of advanced high-strength steel alloy has been expanded to 53 percent of the body structure. To attain unprecedented levels of structural rigidity, critical components were fabricated using advanced hot stamping technology.
BLIND-SPOT COLLISION WARNING (BCW)
Protecting when you're at your most vulnerable, the Blind-Spot Collision Warning system on the Elite model is like having a second pair of eyes watching out for your safety.  It constantly monitors the blind spot and will alert to the presence of a vehicle in the blind spot.
SMART CRUISE CONTROL (SCC)
Smart cruise control does much more than maintain a preset speed. The smart function automatically maintains a safe distance between you and the car ahead by using throttle and brake intervention.
FORWARD COLLISION-AVOIDANCE ASSIST (FCA)
Representing one of the most important advancements in automotive safety, FCA monitors the vehicle ahead and will automatically apply the brakes and bring the IONIQ to a safe stop thus minimizing the risk of a collision. FCA also includes pedestrian detection capabilities.
LANE KEEPING ASSIST (LKA)
LKA uses optical sensors to continuously monitor the lane markings on the roadway. If you begin to depart your lane without a prior lane change signal, LKA will automatically issue audible and visual alerts reminding you to take corrective action.
ISOFIX CHILD SEAT ANCHOR POINTS
The IONIQ is designed to keep Kiwi families as safe as possible, with tether child seat anchor points in the second row and ISOFIX child seat anchor points on second row outside seats.
POWER SAFETY WINDOWS
For extra safety, sensors automatically lower the windows by 150 mm upon detecting any obstructions in the frame.
REAR-VIEW CAMERA
This handy safety feature takes all the stress out of parking and driving in reverse.